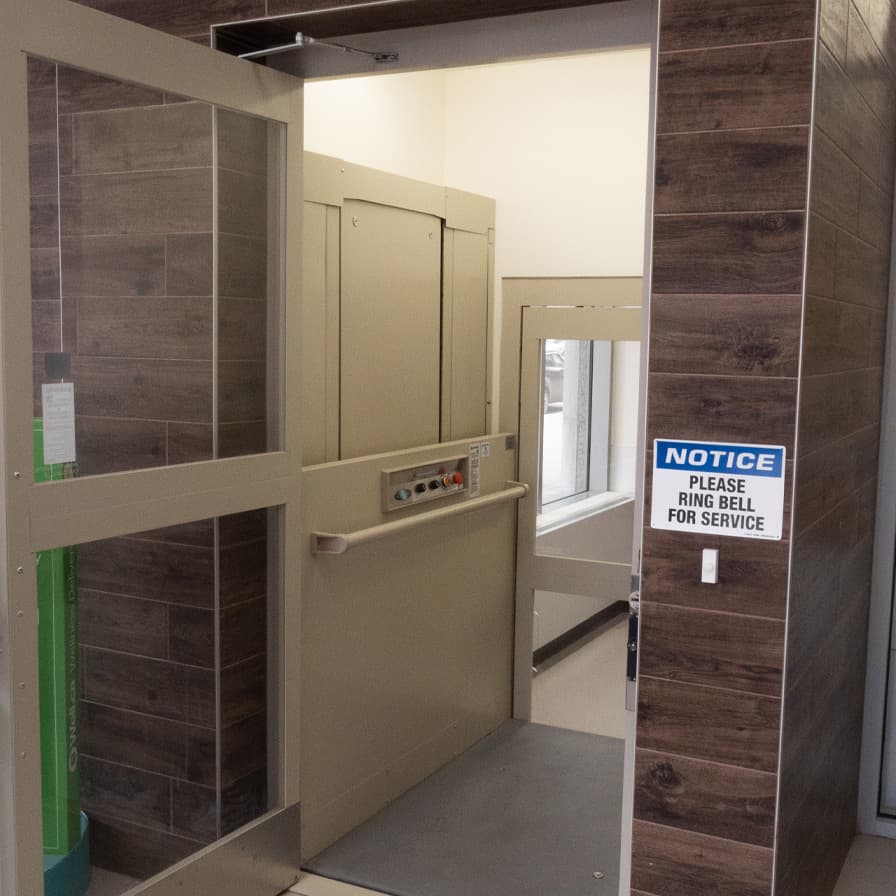 Savaria V-1504 Wheelchair Lift Model
• Swift 20 ft/min hydraulic lift to carry a wheelchair and passenger up to 4 stops over 23′ of travel (code permitting)
• Often configured for use in a shaftway
• Array of optional paint colors; gates available with aluminum, acrylic or glass inserts, and with automatic opener
• ADA-compliant or custom platform sizes; same-side, straight-through or 90º entry and exit
• Drive system is located in tower so no machine room needed; operated by constant pressure controls
• For residential or commercial access; 750 lb capacity
• Suitable for indoor or outdoor use; also available with enclosure and luxury glass models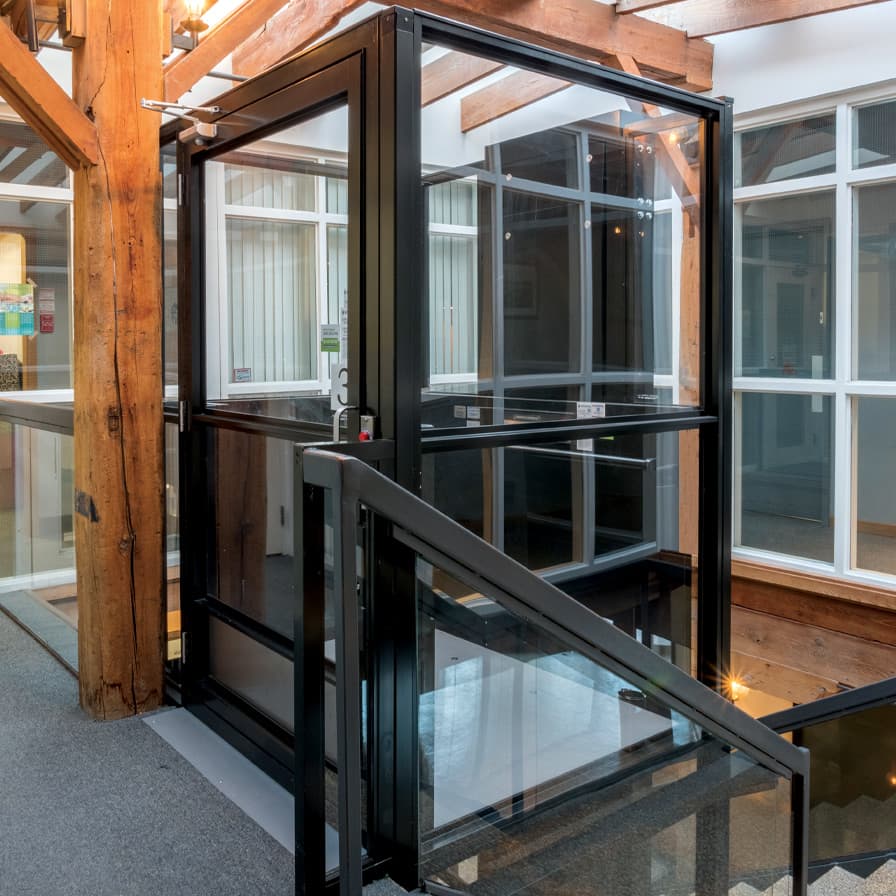 Savaria V-1504 Enclosure Wheelchair Lift
• Fully enclosed lift; carries a wheelchair and passenger up to 4 stops over 23′ of travel (code permitting)
• 20 ft/min hydraulic drive system operated by constant pressure controls; no machine room needed
• Configure enclosure with aluminum, acrylic or glass inserts; doors and gates available with inserts; optional domed, ventilated roof; an array of optional paint colors
• ADA-compliant or custom platform sizes; same-side, straight-through or 90º entry and exit
• For residential or commercial access; 750 lb capacity
• Ideal for outdoor applications, or for indoor use; also available without enclosure and in luxury glass models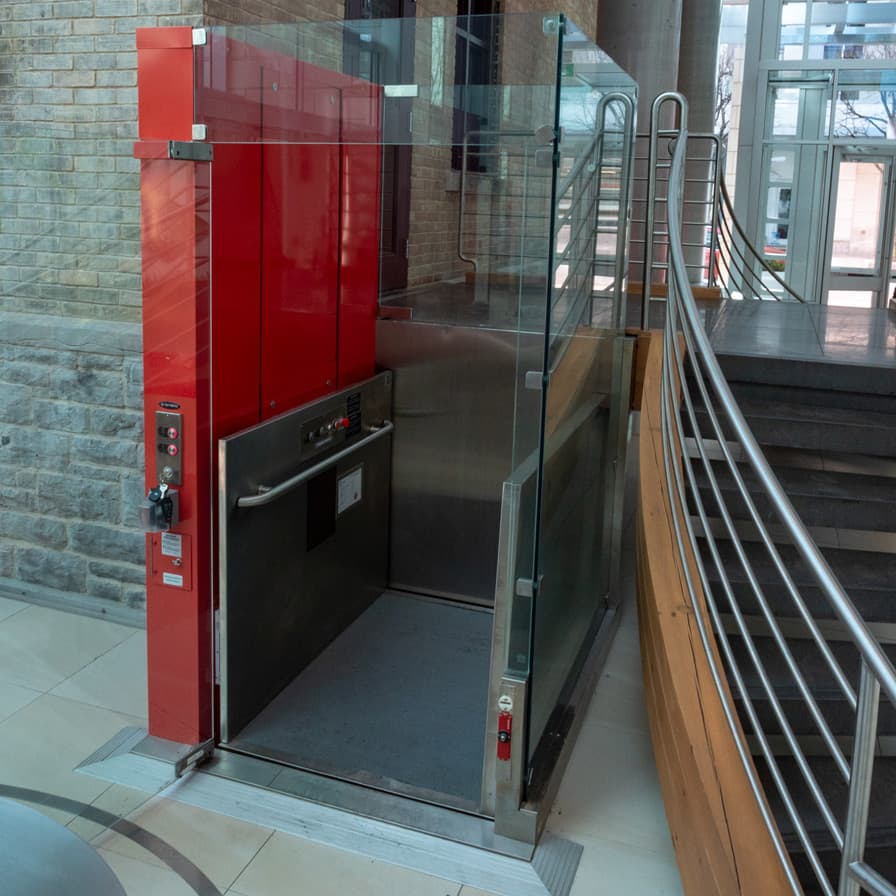 Savaria V-1504 Prestige Wheelchair Lift
• Luxury lift built from half-inch structural tempered glass with no visible frame for indoor commercial or residential projects
• Carries a wheelchair and passenger between 2 stops, up to 6′ of travel; 750 lb capacity
• Framed version available for 3 stops and up to 12′ of travel
• Doors and gates available; optional paint colors available for tower and platform
• 20 ft/min hydraulic drive system operated by constant pressure controls; no machine room needed
• ADA-Compliant or custom platform sizes; same-side, straight-through or 90º entry and exit
• See V-1504 Lux for an enclosed glass lift serving up to 4 stops and up to 23′ of travel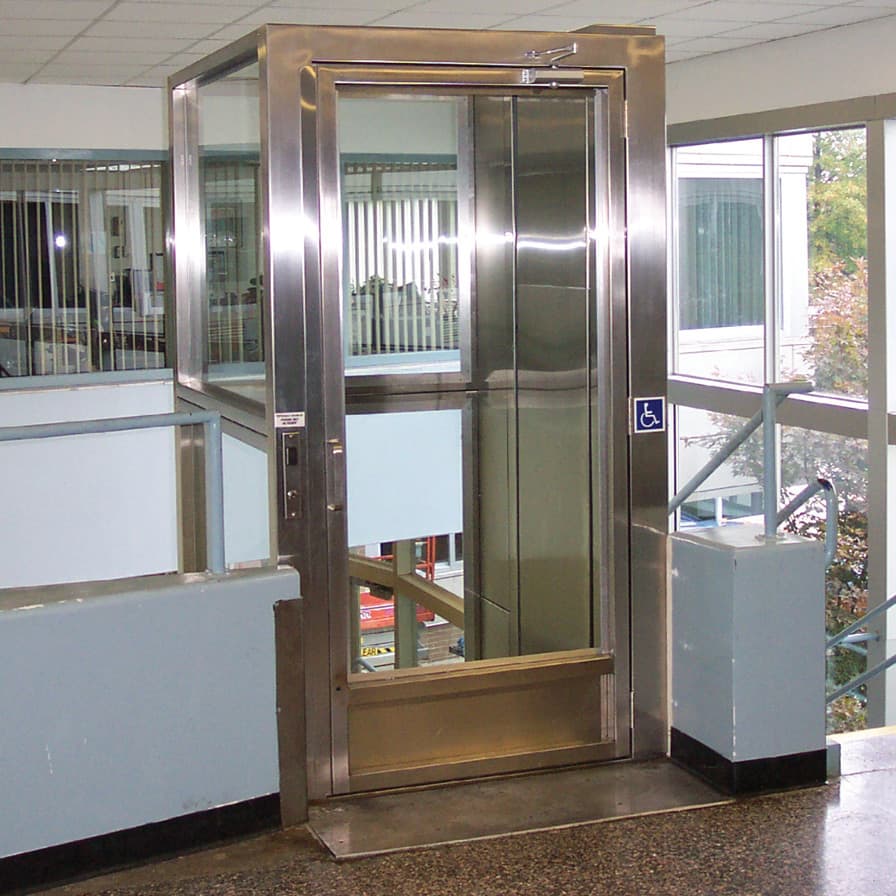 Savaria V-1504 Lux Wheelchair Lift
• Enclosed lift, beautifully framed in stainless steel with glass inserts for luxury commercial or residential projects
• Carries a wheelchair and passenger up to 4 stops over 23′ of travel; 750 lb capacity
• For indoor or outdoor use; doors or gates available with inserts; optional domed top
• ADA-compliant or custom platform sizes; same-side, straight-through or 90º entry and exit
• 20 ft/min hydraulic drive system operated by constant pressure controls; no machine room needed
• See V-1504 Prestige frameless glass lift for a 2-stop unenclosed option for indoor use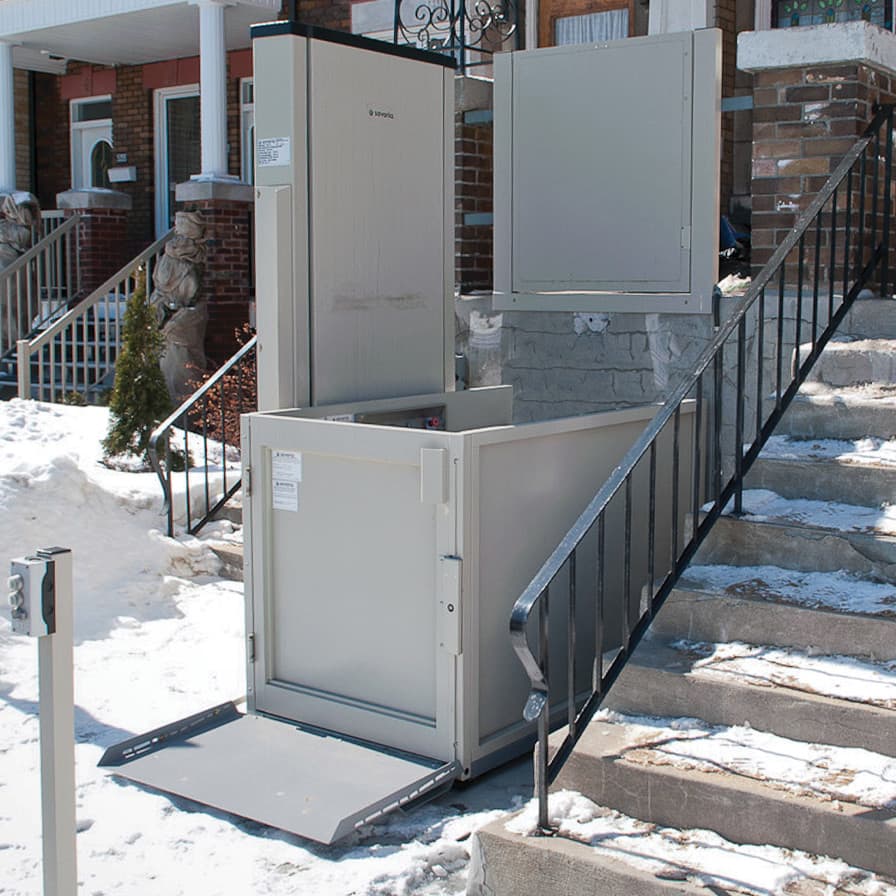 Multilift Unenclosed Wheelchair Lift Model
• Durable wheelchair lift for commercial* or residential access, available in multiple entry/exit configurations and platform sizes
• Reliable, easily installed ACME screw drive lift carries a wheelchair and passenger between 2 stops, up to 72″ (for more stops and higher travel, see V-1504 VPL)
• Nominal speed of 8 ft/min; operated by constant pressure controls
• Gate available with aluminum, acrylic or glass inserts, and with automatic opener
• Drive system housed in tower, so no machine room required; 750 lb capacity
• Suitable for indoor or outdoor use; also available with enclosure and as a mobile unit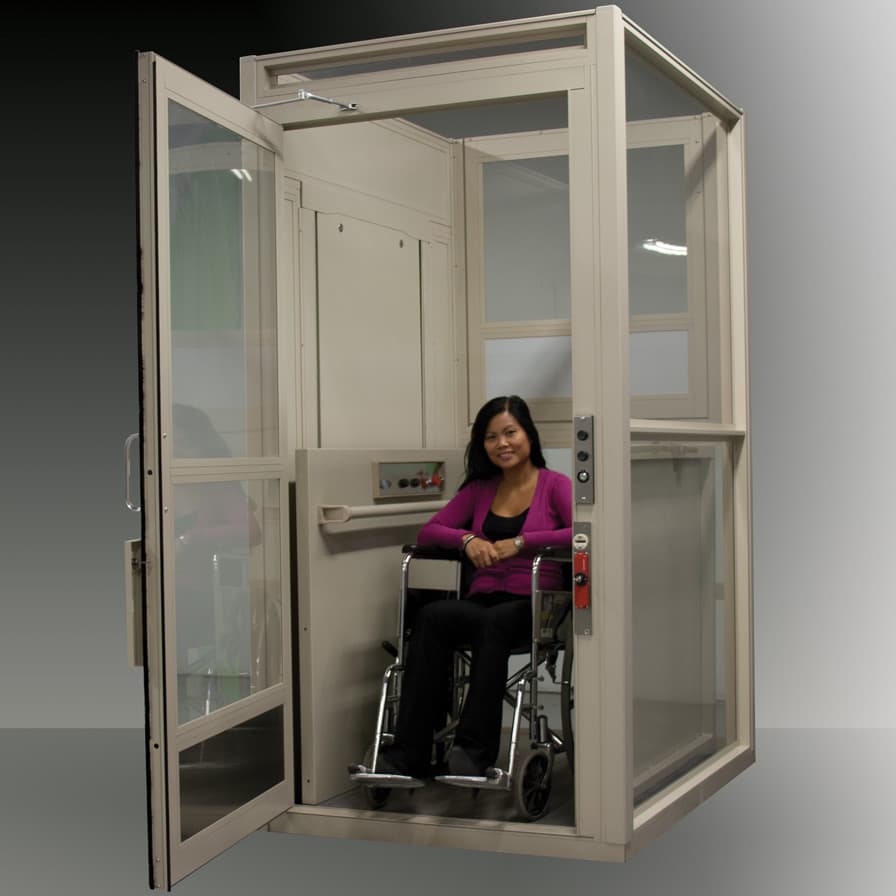 Multilift Enclosure Wheelchair Lift
• Fully enclosed lift for residential or commercial* 2-stop access with travel up to 72″ (for more stops and higher travel, see V-1504 enclosure)
• Reliable ACME screw drive system with nominal speed of 8 ft/min; no machine room needed
• Same-side, straight-through and 90° entry/exit configurations available; choose from 3 platform sizes
• Enclosure can be configured with aluminum, acrylic or glass inserts; doors and gates available with inserts; optional domed, ventilated roof
• Operates by constant pressure controls; 750 lb capacity
• Suitable for indoor and outdoor use; also available without enclosure and as a mobile unit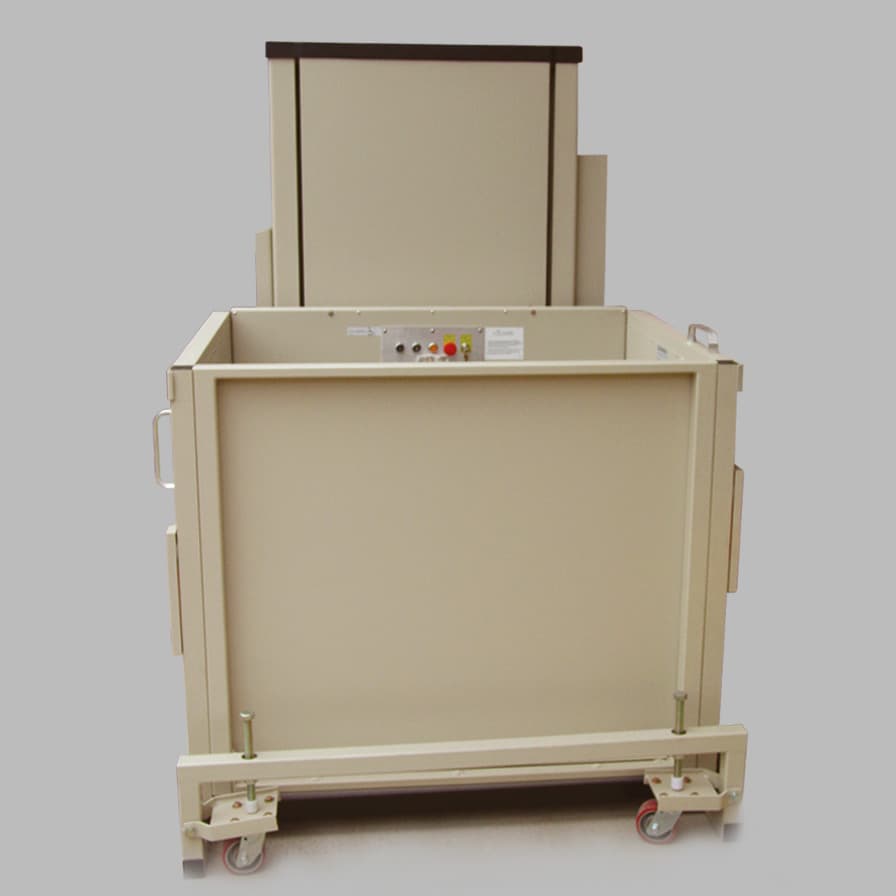 Multilift Mobile Wheelchair Lift Model
• Reliable ACME screw drive lift for low-rise access: carries a wheelchair and passenger up to 4′ of travel between 2 stops
• Mobile unit provides temporary accessibility; includes 2 manual platform gates and automatic access ramp
• Operated by constant pressure controls; 750 lb capacity
• Suitable for residential or commercial* needs
• For indoor or outdoor use (in moderate climates); also available as a semi-permanent installation with enclosure and without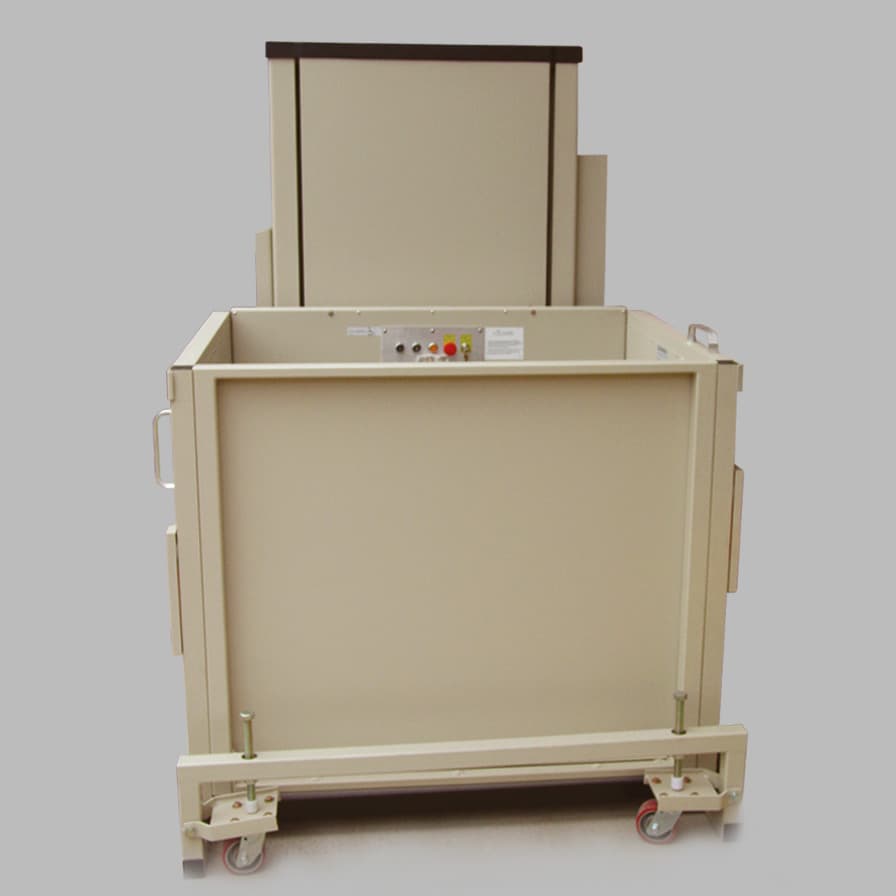 M2 Lift Wheelchair Lift Model
• Complete residential porch lift package! Includes solid flush top landing gate and integrated fascia panel for quick, seamless installation
• Travels up to 2 stops, with straight-through access (for 90º entry/exit, see Multilift VPL)
• Rust-resistant aluminum components; for indoor or outdoor use, even in extreme climates
• Smooth, quiet chain drive system housed in unique twin tower design for an unobtrusive profile
• 750 lb capacity: accommodates a wheelchair or other mobility equipment
• Easy to operate with constant pressure controls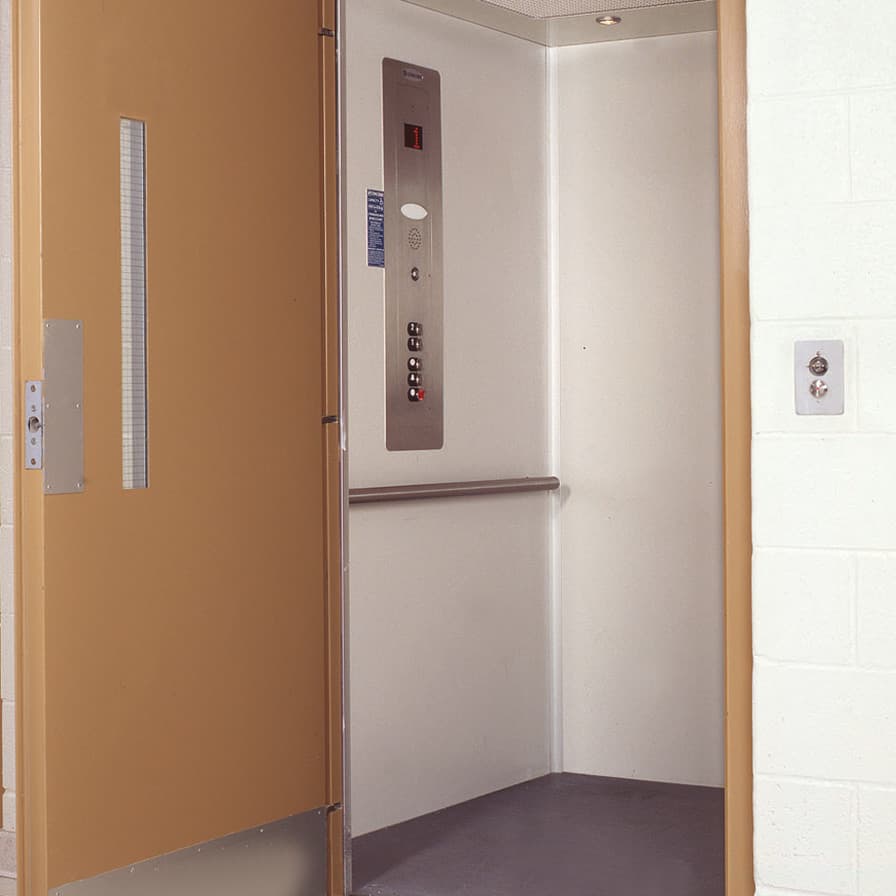 Pro Lift Wheelchair Lift Model
• Enclosed cab interior – feels like a traditional elevator
• Services up to 6 stops over a maximum travel distance of 23′ (14′ in USA)
• Our fastest VPL with speed of 30 ft/min; hydraulic drive system, requires machine room
• Constant pressure controls; for fully-automatic commercial access, see the Orion elevator
• For indoor commercial or residential use, up to 1050 lb capacity; 1400 lb capacity HD model available
• Cab available in a wide selection of finishes, and in multiple sizes and entry/exit configurations; casket lift option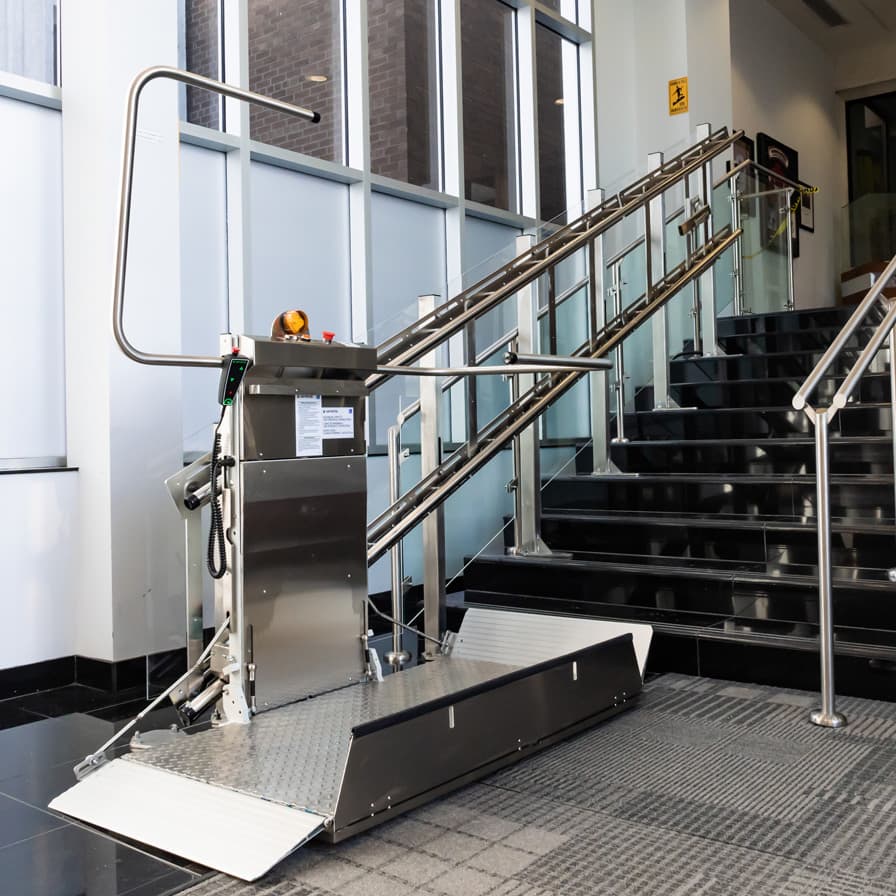 Savaria Delta Straight Wheelchair Lift Model
• Swift 20 ft/min hydraulic lift to carry a wheelchair and passenger up to 4 stops over 23′ of travel (code permitting)
• Often configured for use in a shaftway
• Array of optional paint colors; gates available with aluminum, acrylic or glass inserts, and with automatic opener
• ADA-compliant or custom platform sizes; same-side, straight-through or 90º entry and exit
• Drive system is located in tower so no machine room needed; operated by constant pressure controls
• For residential or commercial access; 750 lb capacity
• Suitable for indoor or outdoor use; also available with enclosure and luxury glass models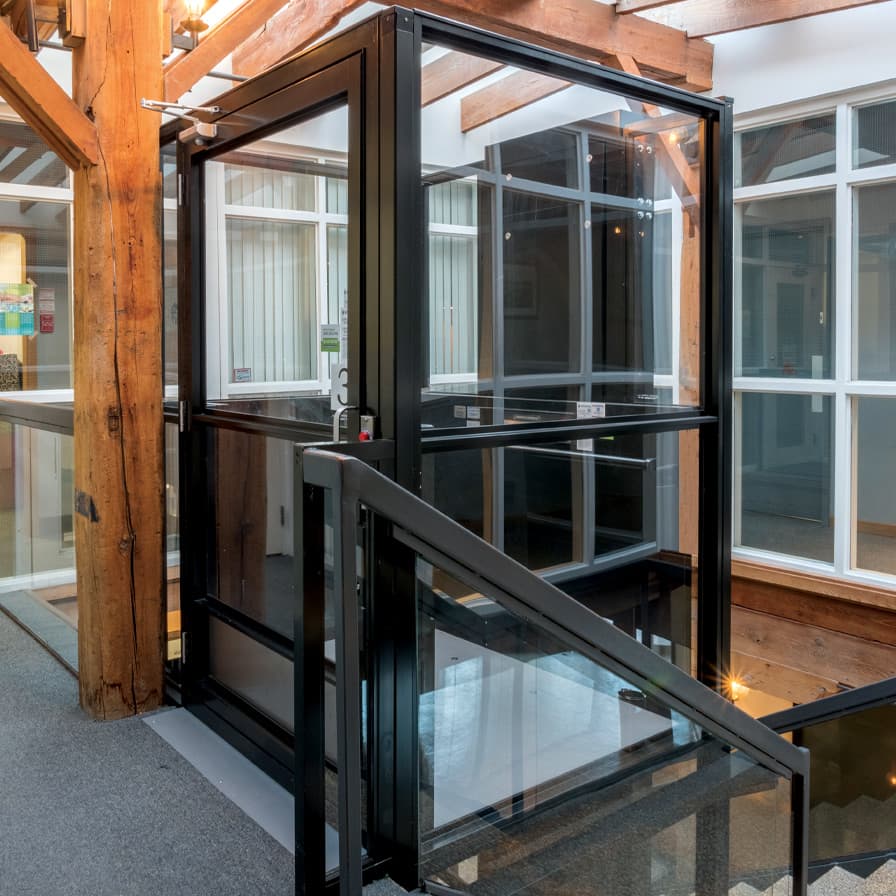 Savaria Omega Curved Wheelchair Lift
• Fully enclosed lift; carries a wheelchair and passenger up to 4 stops over 23′ of travel (code permitting)
• 20 ft/min hydraulic drive system operated by constant pressure controls; no machine room needed
• Configure enclosure with aluminum, acrylic or glass inserts; doors and gates available with inserts; optional domed, ventilated roof; an array of optional paint colors
• ADA-compliant or custom platform sizes; same-side, straight-through or 90º entry and exit
• For residential or commercial access; 750 lb capacity
• Ideal for outdoor applications, or for indoor use; also available without enclosure and in luxury glass models
Top Quality Wheelchair Lift Sales & Installation in Seattle, Bellevue, Tacoma & Across the Pacific Northwest
Chinook Elevator Solutions provides expert wheelchair lift design and installation for single and multi-level, multi-directional needs in both residential and commercial settings. We carry a range of ADA-compliant models and styles for use in everything from office parks, schools, and medical arts buildings to residential locations. An authorized Savaria commercial elevator dealer, our wheelchair and stairlifts are known for quality, innovative design, comfort and dependability.
Customizable Vertical Platform Lifts
The best vertical platform lifts combine the accessibility you need with the style elements you want. Our Savaria indoor and outdoor models offer powder-coated finishes, glass or metal doors and gates, and other customizable features that work and look great for many years.
Residential & Commercial Wheelchair Lift Experts in Seattle, Bellevue, Tacoma & Across the Pacific Northwest
Serving home & business owners in Seattle, Bellevue, Tacoma, Tukwila, Seatac, Renton, Kent, Kirkland, Redmond, Bothell, Shoreline, Edmonds, Woodinville, Newcastle, Sammamish, Medina, Clyde Hill, Northgate, Greenwood, Ballard, Lake Forest Park, Madison Park, Lynnwood & Everett, Vancouver, Portland, Gresham, Lake Oswego, Tigard, Tualatin, West Linn, Beaverton, Hillsboro, Rockcreek & More